Reloada mobile is an APP to manage the reloading data. The purpose of Reloada is to consolidate the load data in paper form, JPG images and Excel sheets.
Many loads can be stored per bullet. Shot images can be added to each load.
Reloada mobile has also been available for iOS since 2021. The TLM files, created with Reloada for Windows, can be edited. Of course, new files can also be created and stored on the iPhone or in a cloud.
Features of Reloada mobile:
load data management
– storing loads
– storing shot images
trajectory chart
– bullet drop
– energy
– velocity
trajectory table
– bullet drop
– energy
– velocity
– time
– angle correction (uphill/downhill)
twist rate calculator
– stability (Miller)
– optimum twist rate (Miller)
– optimum twist rate (Greenhill)
– maximum bullet length (Greenhill)
Screenshots
Quick guide
A click on Open opens the iOS file browser. Here you can access your own cloud systems or the iPhone storage.
The TLM files created with Reloada for Windows or Reloada mobile can be opened this way.
The bullet data can be quickly adjusted with a click on Edit.
All loads in the Reloada file (TLM) are listed under the bullet data.
Touching an entry in the list opens the detail page of the selected load.
The selected load can be edited by a tap on the Edit button.
If you scroll down, the embedded shot images become visible.
One of the really big advantages of Reloada mobile is that you can now take a photo directly at the shooting range and attach it to the load.
A double tap on the image will open it.
A twist rate calculator has also been implemented in the mobile version of Reloada, it is opened by touching Twist rate. All that remains to be done is to enter the twist rate of the weapon.
The external ballistics calculator can be opened using the Trajectory button.
If you hold the iPhone landscape after entering the tilt angle, the table is extended by further data.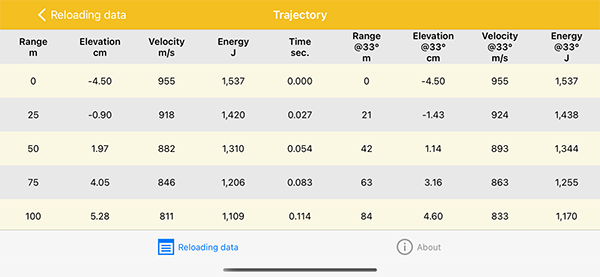 The graphical representation of the trajectory can be opened by touching Charts.
Save
The changed data is not retained in the APP, it must be saved again in the TLM file. This can be done with the Save / Share button.
The TLM file can now be shared with AirDrop, Mail or other messenger apps.
However, if the data is to be saved, then Save to Files is to be selected.
After selecting the storage location, click on Save
If the TLM file is stored in a cloud system to which Reloada for Windows also has access, then the file can be opened and edited with the Windows version.
Download
Please email any feedback or error messages to info@jagdnet.com.